Today's List of the Day is a Riot
The Vancouver riots that were spawned by the Vacouver Canucks (a hockey team) losing the Stanley Cup to Boston were actually pretty brutal. Hundreds of thousands of dollars in property damage were done. Most of the pictures of the rioting and damage were astounding. This all happened because a team lost, which makes absolutely no sense: "Hey city that was rallying behind the team that lost, our team lost, take that!" It'd be like punching someone in the face at their parents' funeral. Anyway, here are some of the more memorable shots.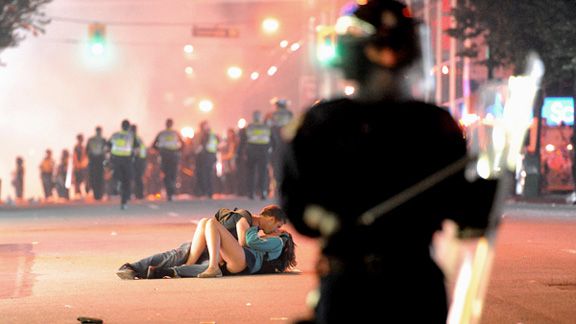 (At least someone was scoring in Vancouver this week)
So, just to let everyone know that no, the world isn't ending (again), Canada just does this sometimes. Want proof? Check out our list of the day, which is chock full of Canadian rioting: The 13 Craziest Hockey Riot Videos of All Time. That's right, not just riot videos, but hockey riot videos! 
Enjoy.